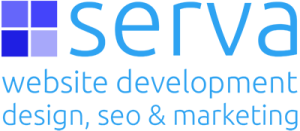 serva

website design, development, seo & marketing
---
our website design & development team specialize in promoting & showcasing your business
so however you look at it …
you'll look your best with
serva
in excess of 63% of the internet is being viewed with mobile devices …
so whatever they use; Apple iPhones, iPads, Android phones or Tablets
that's over 100,256,900 smart phone users in America
.
↓
we'll not only make your new website design mobile compatible, we'll also make your business look great each time the website is visited
step one:

 for a new
website, you need it
to be auto responsive,
this is also referred to as
mobile compatible
or mobile friendly
step two:

 you need seo
'search engine optimization'
so you'll be found fast,
as there's no point in
having a great site
& never be found!

so however you look at it …
you'll look your best with
serva
↓
step three:

 use a professional website designer or developer such as

serva

because it will save time and money in the long run.
using

serva

, will ensure your site is right first time, up and running quickly, showcasing your products to promote your business.
we can also show you how to boost your website presence
this attracts more visitors who'll have a better experience on the site, so they'll stay longer and longer means more chance of a sale for your business
↓
this is why
serva

should be your first choice
for website design, development, seo & marketing
serva

 website design and development can promote your business,
so lets get started
our services overview
see how serva can help you
take a look at our portfolio
and see what serva can do for you
we offer a range of options for mobile compatible website design, even monthly payments, so ...
get your website right first time
our mission statement
our aim is to offer clients an outstanding service. serva accomplish this by maintaining a high level of communication throughout, attention to detail and a clear focus on the objectives of our clients projects. through this personal approach, we closely work together to create a website to be proud of.
we become an extension of your team and bring projects from concept to completion, within budget and on time.